PrintX Reprographics provide B2B services for reproduction, scanning, storage and management of business documents. We support applications in multiple markets including Architecture, Engineering, Construction, BIM and GIS. Our facility has state-of-the-art technology and a team of dedicated professionals. We strive to meet your deadlines and offer pick up and delivery of all projects as needed. Quality and Customer Service are our top priorities. Our Services include, but are not limited to: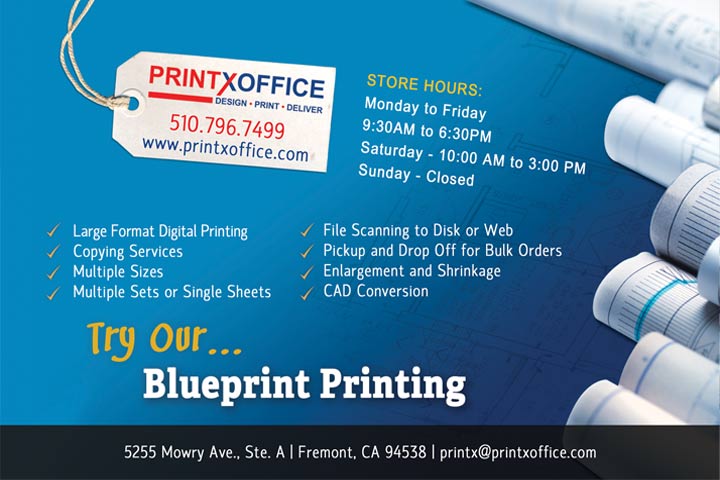 1.LARGE FORMAT PRINTING AND COPYING:
■ For sizes up to 36" wide and practically any length.
■ We accept all commonly used formats including:
PDF, DWG, HPGL, PLT and DXF formats.
■ All sizes from A to E Mechanical (ANSI) or Architectural.
■ High speed copying and Digital Printing.
■ Enlargement and Shrinkage of documents.
■ Pick-up and drop-off for bulk orders.
■ Low or high volume.
2. LARGE FORMAT SCANNING TO FILE:
■ Custom or Standard sizes from A to E,
Mechanical (ANSI) or Architectural.
■ High image quality using scanning resolutions up to 600 dpi.
■ Scan to External Hard Drive, USB Flash Drive, Email or Web.
■ Size reduction from Large Formats to A or B sizes.
■ Scan to pdf, tiff or jpeg formats.
■ Low or high volume.
■ Special services for scanning:
-Fragile, damaged or badly torn documents.
-Ageing and/or valuable documents (acrylic /oil paintings, collages).
-Documents with missing edges.
-Multiple odd shaped originals & upholstery patterns.


3. PAPER TO CAD & CAD TO CAD CONVERSION:
■ Professional services to convert from Raster to Vector files.
■ Scan to CAD or Paper to CAD services. Support all common CAD formats including DXF, HPGL, WMF, EMF and PDF vector formats.
■ Inter-conversion of popular CAD formats including dxf, dwg, dwf, dgn and plt file extensions.
■ Convert pdf, TIFF, PostScript and jpg to common CAD formats or vice versa.
■ Typical turn around time between 1 week and 6 weeks depending upon the size and complexity of the project.


4. PAPER TO TEXT (OCR) & PDF TO TEXT CONVERSION:
■ Best effort paper to text conversion service is provided in English using state-of-art OCR programs.
■ Secondary editing and formatting is available as an optional service.
■ Pdf to TIFF, text, Excel, Word, Open-office compatible or jpg .
■ Turn around time varies from 24 hours to two weeks depending upon the size and complexity of the original document.


5. LANGUAGE TRANSLATION SERVICES:
Our language translation service enables our customers to understand foreign language content easily. This is particularly valuable for people trying to understand international publications, papers, reports or even part of books or books in languages other than their native language. A good quality translation is provided by using the best machine translation engines in the market. Features of PrintX Language Translation Service include:
■ Convert pdf document to and from any of the European languages.
■ More than 20 languages are supported including:
Danish, Dutch, English,French, German, Greek, Hungarian, Italian, Polish, Portuguese, Russian, Spanish, Swedish and Ukrainian.
■ Translated copy can be made available in pdf, TIFF, Word, Excel or jpg.
■ Translated document perserves the layout and alignment of all images, tables and as close to the original as possible.
■ Easy-to-read and easy-to understand.
■ Secondary editing in several languages is also available if needed.
■ Turn around time typically between 24 hours and 1 week depending upon size and complexity of the job.
Scanned text and text in images are not translated in this service. OCR services are offered separately (see above).


6.OTHER RELATED SERVICES:
Additional services include Digital Document Storage and Management, Graphic Services/Design/Production as well as Website Design.